Serves: 8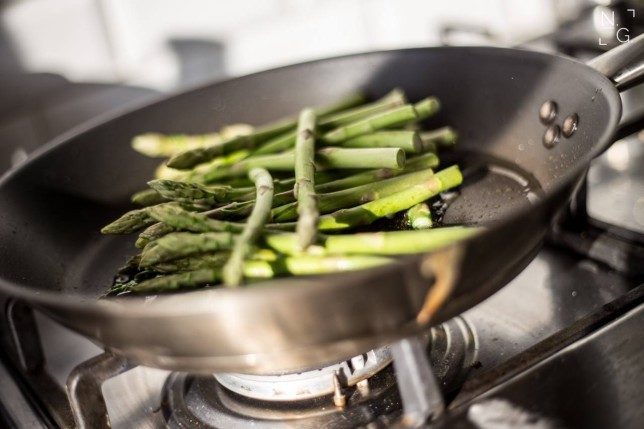 Last week I made my all-time favorite chicken and fennel salad with oranges that most of you might already know from my previous post as a side dish to one of my risottos so that my Airbnb host Nico would rate me nicely on Airb'n'b. He said that making dinner would positively impact my future Airb'n'b travelling :) That is why I tried hard not to mess this up and cook something that everybody would like.
It turned out quite well – I just received my rating yesterday night, and it was as high as it could be ;)
For the chicken, fennel and orange salad you will need:
one organic chicken
one big bulb of fennel or two small bulbs
3 oranges
fresh basil, mint and other herbs (oregano, dill, etc.)
olive oil
white balsamic vinegar
salt & pepper
Roast the chicken in a very big and very hot pan for about 4 minutes on each side. Only use a little bit of olive oil and make sure it gets a nice brown color but does not get burnt.
Then put the bird into the oven at 200° until done.
Meanwhile thinly slice the fennel and make sure you also use the greens – they carry all the right stuff!
Also peel the orange and thinly cut it.
Combine the fennel & oranges in a big mixing bowl and add the herbs. Cautiously mix it.
When the chicken is done set it aside to cool until it is just cold enough so you can tear it into rough and not too small pieces using your hands. At this step, you also remove the bones and the skin. Add it to the fennel & oranges and add a little bit of olive oil, vinegar, salt & pepper.
For the risotto you will need:
3 cups of risotto rice
6-8 cups of chicken stock or vegetable stock for a vegetarian version
1 cup of chopped onions
one bundle of fresh green asparagus
2 tbsp butter
2/3 cup of white wine
1/2 cup of freshly grated parmesan
one cup of creamy goat cheese (I use Chavroux)
one handful of fresh basil
one handful of fresh dill
one handful of fresh oregano
3 tbsp of olive oil
salt  & pepper
Heat the olive oil in a big pot and fry the chopped onions on medium heat for about 8 minutes. Add the rice and fry for another 3 minutes while constantly stirring. After that, you also add the white wine and stir well for another 3 minutes.
Now reduce the heat to low and step after step (1/2 cup at a time) add a little bit of chicken or vegetable stock and keep stirring. Stir the rice almost constantly — stirring sloughs off the starch from the rice, making the creamy sauce you're looking for in a risotto. Wait until the stock is almost completely absorbed before adding the next 1/2 cup. This process will take about 25 minutes. The rice should be just cooked and slightly chewy. When the rice starts to get that creamy texture, you add half of the fresh herbs. After 5 minutes stir in the shredded parmesan and the butter & season with salt and pepper.
Now you will need to roast the asparagus in a big pan for a tiny little bit! They should be cooked to the bite which means that they will probably only need 2-3 minutes. Make sure not to use too much olive oil. Salt & pepper after taking them off the heat.
To serve spread the rice in a big casserole dish and cover it with the asparagus, the goat cheese and the leftover fresh herbs!
Enjoy that feast!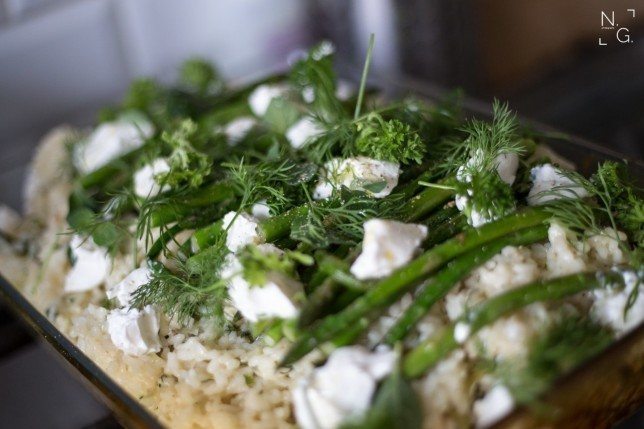 Again a big shout-out to Nico – the gifted photographer of those beautiful pictures. I will for sure miss Nico a lot in my kitchen. Also, you should not get used to the quality of those photos. I will not be able to keep it up.