Serves: 2
Preparation time: 30 min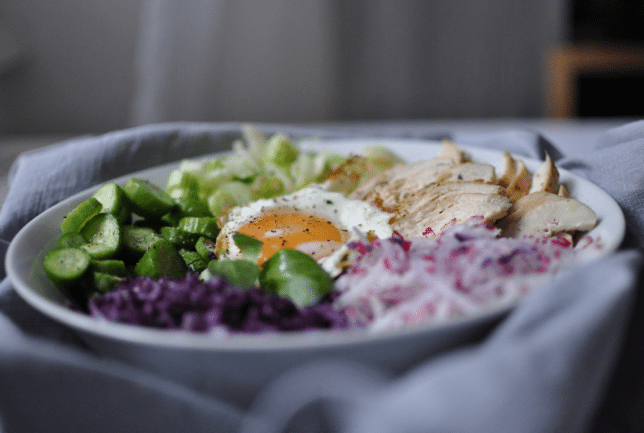 Let me introduce you to the one & only salad that everyone will enjoy – even people who usually are not the biggest fans of salad. It is a very refreshing yet also highly saturating salad bowl that makes a great office lunch but can also be served for breakfast or brunch.
Eating salad for breakfast might sound a bit weird to many of you – it actually sounded quite weird to me a few weeks ago – especially because I have a deep love & respect for breakfast! On weekends, I would also have hearty & hefty meals for breakfast/brunch since I can mostly allow myself to hang around or to take a long walk/hike afterwards. But during the week I try to eat as light & nourishing as possible, so I can keep up with work and all the other stuff on my infinite To Do – list.
There is really not much to creating the perfect breakfast salad bowl, so let me give you some ideas and guidelines that will inspire & hopefully convince you:
Put an egg on it! Everything is better with a perfectly cooked egg on top of a salad.
Add fats – the good ones, like: avocado, feta, salmon, flax seeds, walnuts, sesame seeds, sunflower seeds, olives, tuna, …
Play around with the "green" ingredients: Make sure to use all kinds of vegetables you can find on local markets. Go wild when it comes to mixing & matching.  For this salad I used fennel, red cabbage, radishes, corn salad and small cucumbers. Other favourites are fresh spinach, carrots, beetroots, avocado, celery & arugula. It is also never a bad idea to miy some fresh or dried fruits like apple, cranberries & oranges.
Use your leftovers: If there are any leftover grilled veggies, cooked meat/fish or a small pieces of feta/halloumi in your fridge make sure to add them to your breakfast salad.
Be creative when it comes to cutting, slicing & shredding: I love a salad that has some great texture. This is why I often cut, clice & shred vegetable in different ways. I don't know about you but I think it's kinda fun :)
For this breakfast salad I – as mentioned above – used corn salad, shredded radishes and red caggabe, sliced fennel and cucumbers, leftover grilled chicken, an egg. I threw it all into one bowl, marinated it with high quality olive oil & lemon juice and season it with salt & pepper.
So if you consider yourself brave enough you should really give this a try & then please let me know how you liked it…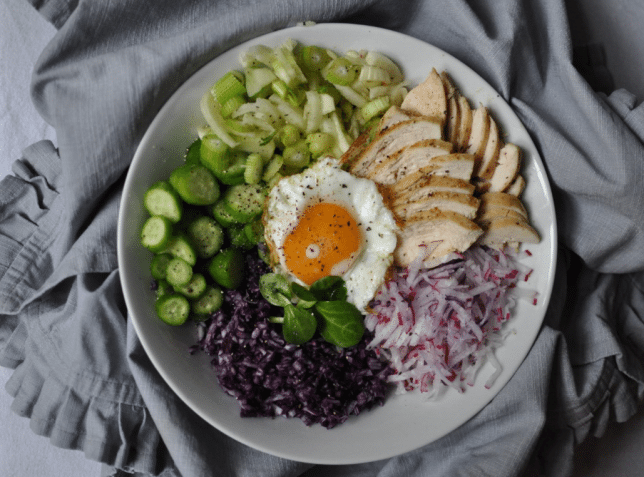 Ingredients:
1 small fennel bulb
a small piece of red cabbage
two handfuls of corn salad
6 radishes
2 eggs
roasted chicken
olive oil
1 lemon
salt & pepper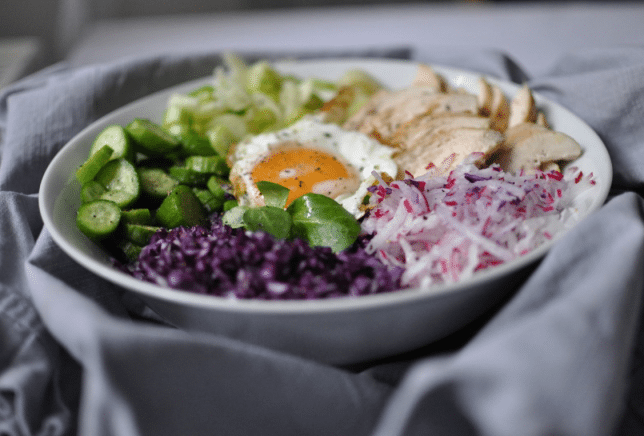 Preparation:
Cut the fennel & the cucumbers into small slices.
Shred the radishes & the red cabbage.
Wash the corn salad.
Slice the chicken.
Now heat a little bit of olive oil in a pan and fry the eggs.
For the dressing just mix lemon juice, olive oil, salt & pepper and drizzle it over the salad.
Serve the salad in small bowls and top it with one egg each.
---
Für 2 Personen
Zubereitungsdauer: 30 Minuten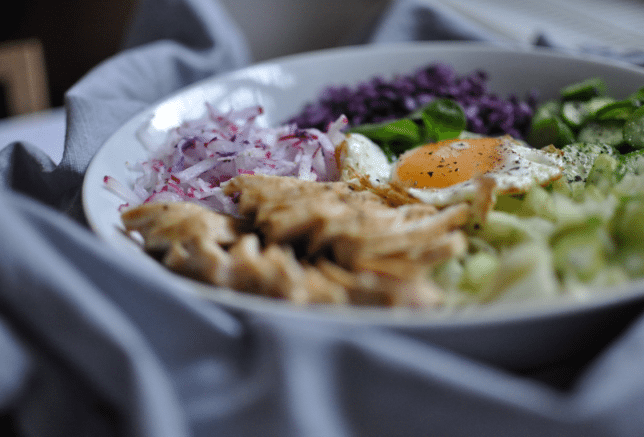 Zutaten:
1 kleine Fenchelknolle
ein kleines Stück Rotkraut
2 Handvoll Vogerlsalat
6 Radieschen
2 Eier
gegrillte Hühnerbrust
Olivenöl
1 Zitrone
Salz & Pfeffer
Zubereitung:
Den Fenchel & die Gurken in kleine Scheiben schneiden.
Die Radieschen & das Rotkraut raspeln.
Den Salat waschen und gut abtropfen lassen.
Das Huhn in feine Scheiben schneiden.
Nun in einer Pfanne etwas Olivenöl erhitzen und 2 Spiegeleier braten.
Für das Dressing einfach Olivenöl, Zitronensaft, Salz & Pfeffer zusammenmischen und gut verrühren.
Den Salat mit dem Dressing marinieren und in kleinen Salatschüsseln mit je einem Spiegelei servieren.