Für 2 Personen
Zubereitungsdauer: 25 Minuten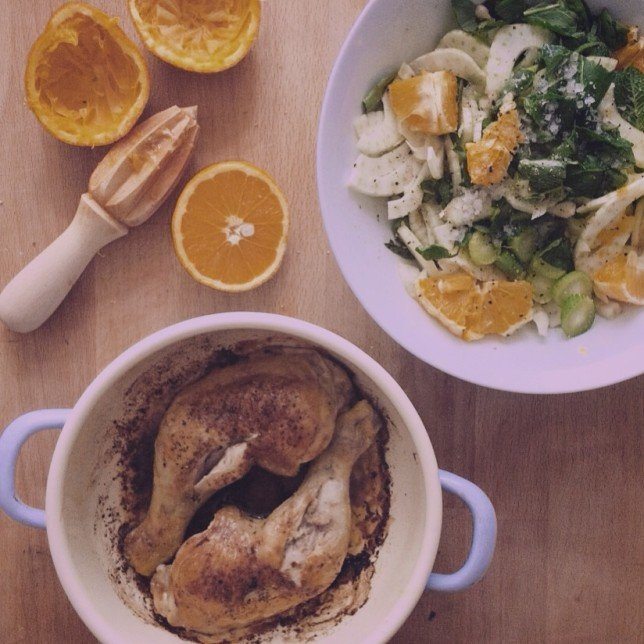 Zutaten:
Hühnerkeulen oder Hühnerbrust (mit Haut und Knochen)
eine Bio-Fenchelknolle
2 saftige Bio-Orangen
eine gute Handvoll frischer Minzeblätter
Olivenöl oder Butter
gerösteter Sesam
noch etwas Olivenöl und weißer Balsamico Essig für die Marinade
Salz(-flocken) und Pfeffer
Zubereitung:
Das Backrohr auf 150 Grad vorheizen.
Die Butter oder das Olivenöl in einer Pfanne stark erhitzen und das Huhn auf beiden Seiten je 2 bis 4 Minuten scharf anbraten.
Das Huhn nun in einer backfesten Form auf der untersten Schiene für etwa 15 Minuten im Backrohr backen. Dann die Garstufe checken, indem man mit einem scharfen Messer in die dickste Stelle einschneidet. Das Fleisch soll zwar gerade durch aber noch sehr, sehr saftig sein. Ich würde die Temperatur daher nach den ersten 15 Minuten auf 100 Grad reduzieren.
Während das Huhn im Ofen vor sich hin gart, den Fenchel und die Orangen in dünne Scheiben schneiden und die Minze grob hacken.
Fenchel, Orangen und Minze vorsichtig aber gut vermischen und mit dem Sesam bestreuen.
Wenn das Huhn fertig ist sofort kühlen, bis es kühl genug ist um es mit den Händen in grobe Stücke zu reißen bzw. zu zupfen. Die Haut und die Knochen werden hierbei entfernt.
Das Fleisch nun mit dem Fenchel, den Orangen, der Minze und dem Sesam mischen und mit Olivenöl, weißem Balsamico, Salz und Pfeffer marinieren.
Kalt oder lauwarm servieren.
---
Serves: 2
Preparation time: 25 min
If there is one pairing of two ingredients that always magically works, I would say it is fennel and oranges! They are loaded with all the good stuff and are available throughout the whole year.
But to be honest – I didn't always cherish fennel as much as I do now. For a very long time, I didn't like fennel. For some reason, I was not alone with this. As I experienced, most people do not like fennel for some reason. Even Dante didn't like fennel. In fact he hated its aroma so much that he used fennel as a swear word:  "E quei, ch'io non credeva esser finocchi, / ma veri amici, e prossimi, già sono / venuti contra me con lancie, e stocchi" ("Those I thought to be friends were fennels instead, they came at me with spears and swords".
I didn't go as far as good old Dante here, but I tried to keep fennel out of my nutrition and kitchen. Successfully. That was until I realized that you can eat raw fennel. I love the taste and especially the texture of raw fennel. Since I know that fennel is also considered to be a superfood, I love it even more. On top of that I somewhere along the line noticed that fennel even is often used in my beloved Mediterranean kitchen – paired with fruits, fresh fish or the famous "pasta con le sarde", a Sicilian pasta dish with fennel and sardines that you have to try!
So I started to add my new favourite vegetable to all kinds of dishes until one day, I found the perfect combination: fennel and fresh, juicy oranges. You can either prepare an easy salad of only fennel and oranges with olive oil, white balsamic vinegar, sunflower seeds, salt and pepper – which is great on hot summer days -, but also you can use them as a side salad for every kind of meat, fish or seafood!
Ingredients:
chicken thighs or chicken breast (with bones and skin)
one bulb of fresh and organic fennel (you should also use the greens)
two organic oranges
a good handful of fresh mint leaves
olive oil or butter
roasted sesame
more olive oil and white balsamic vinegar
salt(-flakes) and pepper
Preparation:
At first you preheat your oven to 300°F.
Heat the butter or the olive oil in a pan and roast your lightly salted and peppered chicken for two to four minutes on each side.
Place the chicken in a casserole dish and move it to the oven where you will bake it for about 15 minutes until you check its degree of doneness by cutting into the thickest part of it. You want to find that point where your chicken is just done and still very, very juicy! Therefore, I would reduce the heat to 200 °F.
While you wait for your chicken to be done, you cut the oranges and the fennel into thin slices and roughly chop the mint leaves.
You now mix the fennel, the oranges and the mint and top it with the roasted sesame.
When your chicken is done you let it rest for a little while until it is just cold enough so you can tear it into rough and not too small pieces using your hands. At this step, you also remove the bones and the skin.
Now mix it with the mixture of fennel, oranges and mint, add olive oil, white balsamic vinegar, salt and pepper.
Serve cold or lukewarm.