Serves: 4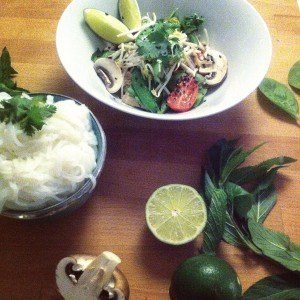 After almost one year of chopping, stirring, baking, frying, poaching, whisking, slicing, kneading, creating recipes, taking pictures and posting on Instagram I finally published my homepage on Monday night, which for me was kind of a dream come true. For the last few months, I've been making desperate efforts trying to create this page– with no success whatsoever! That was until I got the most generous help from someone who apparently absolutely knows what he's doing. That beautiful outcome – in my opinion – is more than I could have ever imagined or wished for.
So for me that Monday night, when we finally launched whenannacooks.com, was a night to celebrate! Naturally. And what better way is there, to celebrate launching a food blog than with good food and glasses of wine?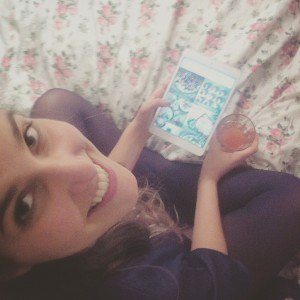 So this euphoric and psyched girl here then decided to make Vietnamese chicken pho – slightly altered, as I used a tiny bit of coconut milk.
Since my backpacking in Vietnam, I am a big fan of pho. In those three weeks of travelling through the country, I probably had a total of 50 bowls of pho. I even had pho for breakfast. In fact, I learned that pho is usually eaten as a breakfast food by most Vietnamese people, and it is very unusual for someone to eat it for another meal. Fortunately Vietnamese people are not very strict enforcing that rule – so I could have pho twice or even thrice a day – breakfast, lunch and dinner :)
Pho is stuffed with a great variety of fresh vegetables and herbs. It is a very simple dish, beefed up by a subtle assortment of various spices, completed by squeezed limes and a good handful of fresh cilantro.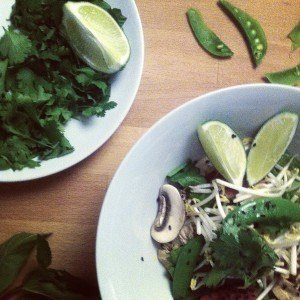 For a big pot of chicken pho which will feed at least 4 people you will need:
2 lbs of chicken thighs (with bones and skin)
1 cup of coconut milk
a good piece of fresh ginger
2 fresh red chilis
2 stalks of lemon grass
1 tsp fennel seeds
1 cinnamon bark
1 tsp coriander seeds
5 cardamom pods
8 star anise
4 scallions
lots of fresh cilantro
lots of fresh mint
mushrooms
snap peas
one handful of bean sprouts
4 limes
2 lemons
a handful of fresh spinach
8 cocktail tomatoes
3 tbsp of roasted sesame
2 lb rice noodles or tapioca noodles
soy sauce
4 tbsp of sunflower oil
salt & pepper
The preparation of pho takes a while as it needs to cook for at least one hour. In Vietnam, they told me that a real pho has to cook on very low heat for a minimum of 12 hours. Since I, unfortunately, do not have that time on workdays, I radically cut it down to 1-2 hours. You will for sure not get the whole flavour that you would get in one of those marvellous Vietnamese street kitchens but it for sure still is tasty.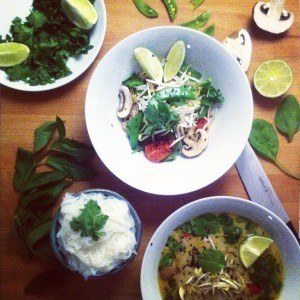 Heat the sunflower oil in a very big and heavy pot.
Meanwhile roughly chop the chili, ginger, scallions and lemon grass.
When the oil is hot, add the chili, ginger, scallions and lemon grass. Stir well and make sure not to let anything scorch.
Add the cinnamon, star anis, cardamom, fennel seeds, coriander seeds and keep stirring.
After 5 minutes add the chicken and fry for 2 minutes on each side.
Now add half a gallon of water and let the whole thing cook on low heat for at least one hour with the lid on.
Meanwhile, you can already prep those veggies that you will later serve your pho with.
Cut the mushrooms and tomatoes in half.
Cut the limes and lemons in wedges.
After one to two hours pass the soup through a sieve to get rid of the spices, ginger, lemon grass, scallions and chili – you will not need that anymore. Make sure to keep the chicken, though :)
Move the soup back to your pot and add the coconut milk. Now season with soy sauce, salt & pepper.
When the chicken has cooled down to room temperature, you separate the meat from the bones and the skin using your hands. You can then again add the meat to the soup.
Meanwhile cook your rice or tapioca noodles in a separate pot using slightly salted water.
Now add the spinach, the mushrooms and the tomatoes to your soup and shortly cook them to the bite. That will take about 3 minutes.
Serve your pho with the spinach, mushrooms and tomatoes. Add the sprouts, noodles and the snap peas. Sprinkle with sesame.
On a separate plate, you serve the wedges of lime and lemon & the fresh cilantro and mint leaves. That way everyone can add as many herbs and lime or lemon juice as he or she wants.
Note: If you are not a cooking-nerd as I am, and you do not store a thousand kinds of different spices and vegetables in your kitchen, living room and supply closet, feel free to play around with the exact composition, leaving out some spices or adding others.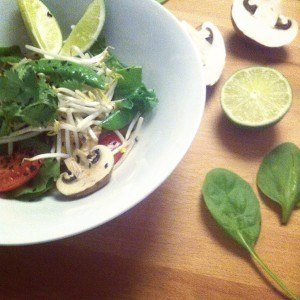 ---
Zutaten:
1 kg Hühnerkeulen (mit Haut und Knochen)
250 ml Kokosmilch
ein gutes Stück Ingwer
2 frische Chilischoten
2 Zitronengrasstängel
1 TL Koriandersamen
1 TL Fenchelsamen
1 Zimtstange
5 Kardamomkapseln
8 Stück Sternanis
4 Frühlingszwiebel
viel frischer Koriander
viel frische Minze
eine Handvoll Bohnensprossen
300 g Pilze
300 g junge Erbsen/Snap Peas/Zuckerschoten
4 Limetten
2 Zitronen
eine Handvoll frischer Spinat
8 Cocktailtomaten
3 EL gerösteter Sesam
eine halbe Packung Reisnudeln oder Tapiocanudeln
Soja Sauce
4 EL Sonnenblumenöl
Salz & Pfeffer