Für 2 Personen
Zubereitungsdauer: 30 Minuten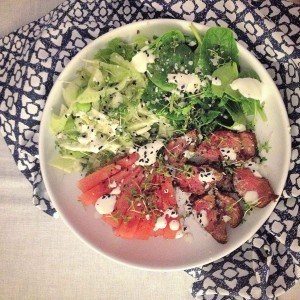 Zutaten:
eine Fenchelknolle
eine Packung frischer Blattspinat
ein Stückchen Wassermelone
Rindfleisch (Roastbeef)
Kresse
50–100 ml Sauerrahm
gerösteter (schwarzer) Sesam
Zitronenolivenöl (oder Olivenöl und frisch gepresster Zitronensaft)
Peffer & Salz(-flocken)
Zubereitung:
Das Backrohr auf 180 Grad vorheizen.
Eine Pfanne auf dem Herd für etwa 5 Minuten stark erhitzen, etwas Olivenöl oder Butter hinzufügen und das Fleisch auf beiden Seiten für ca. 2 Minuten scharf anbraten.
Nun die ofenfeste (!) Pfanne oder eine Auflaufform mit dem Fleisch in das Backrohr stellen und das Fleisch etwa 15 Minuten lang garen.
Währenddessen den Fenchel in dünne Scheiben schneiden und den Blattspinat vorsichtig waschen.
Die Wassermelone in mundgerechte Stückchen schneiden.
Den Fenchel, den Spinat und die Wassermelone auf einem großen Teller anrichten oder vorsichtig zu einem Salat mischen – je nachdem wie man es servieren möchte.
Wenn das Fleisch fertig ist und die gewünschte Garstufe erreicht ist, in dünne Scheiben schneiden und dem Salat beifügen.
Nun alles mit geröstetem Sesam, Kresse, Salzflocken und Pfeffer bestreuen und mit Sauerrahm und Zitronenolivenöl marinieren. Alternativ mit normalem Olivenöl und Zitronensaft.
Warm oder kalt servieren.
---
Serves: 2
Preparation time: 30 min
You might already know from my post about the chicken, fennel & orange salad, that I absolutely love fennel. As this is yet another recipe featuring my all-time-favourite vegetable, I'm trying not to make this post another cheesy declaration of my infinite love for fennel.
So this time I instead will concentrate on the infinite number of possible usage of watermelon.Watermelon – like every other kind of fruit – is usually considered to be used in sweet dishes, with ice cream or in fruit salads. Since Yotam Ottolenghi, we know that there are so many other ways to use and prepare fruits.
At this point, I feel like this might be the right moment to point out that Yotam is the greatest cook of all times! Also, his gorgeous Instagram-feed and inspiring youtube-channel are way more than worth following! For those of you who do not already know him, originally from Jerusalem, Yotam is a London-based restaurateur and food writer. He runs Nopi &Ottolenghi; also he is the author of four bestselling books (two of those are vegetarian). He creates those inventive, modern recipes using a remarkable range of spices and fresh combinations while inventing a new, refreshing take on vegetables with his wholly original & innovative approach to vegetable dishes, based on freshness & seasonality. The people from The Guardian apparently share my love for Yotam – which is why they feature a vast collection of Yotams' recipes on their homepage – you should check that out!
Now back to my recipe:
Inspired by Yotam's fruity and unconventional but still simple salad-creations, I started mixing various fruits into my salads – always with the greatest outcome! Since watermelon is my all-time-favourite fruit, I am always looking for ways to integrate watermelon into my recipes and dishes.
I eat watermelon with feta, basil, and olive oil; I eat it grilled with halloumi or fish; I put it on my chèvre-basil sandwich; I pair it with homemade sweet labneh and sprinkle it with lavender; I make a salad of watermelon, sesame and loads of mint and serve it as a sidedish for lamb; as a special treat I work watermelon, lime and gin in a blender and add a lot of ice plus a little bit of fresh rosemary :)
My newest recipe, though, is that salad of fennel, fresh spinach, roastbeef and watermelon topped with regional, organic sour cream, cress, lemon olive oil, roasted sesame and Maldon salt flakes for what you will need:
1 bulb of fennel
2-3 handfuls of fresh spinach
watermelon
beef (tip roast, rump roast or sirloin roast)
cress
1/2 cup of sour cream
roasted (black) sesame
lemon olive oil (or olive oil plus freshly squeezed lemon juice)
pepper & salt(-flakes)
Method:
First you will need to preheat your oven to 350°F. At the same time preheat a heavy frying pan on the stove for about 5 minutes until it is really hot. You then add a little bit of olive oil or butter and fry the beef for about 2 minutes on each side.
Now you move the frying pan to the oven and slowly bake the meat for about 15 minutes (depends on how thick your piece of meat is). Make sure to use a pan/casserole dish that is oven-proof.
Chop the fennel into thin slices and rinse the fresh spinach.
Cut the watermelon into bite-sized pieces.
Place fennel, spinach and watermelon on a plate or gently mix it – that depends on how you want to serve this salad-like dish.
When the meat is done – or more accurately when it reached your preferred degree of doneness – you cut it into thin slices and add it to your salad.
Then sprinkle with roasted sesame, cress, salt flakes and pepper and drizzle with sour cream and lemon olive oil (or olive oil and lemon juice).
Serve warm or cold – as you prefer.