Serves: 2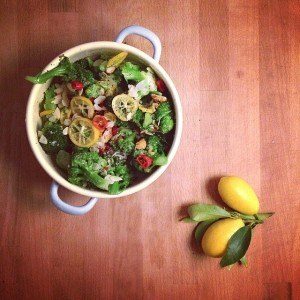 After my tribute to my all time favorite cook Yotam Ottolenghi I would now like to share finally this broccoli recipe of Yotam with you.
Broccoli is one of the most undervalued, unappreciated and most underestimated vegetables out there – I already gave a long speech on that topic in my post about fennel and in my post about Yotam's modern and fresh approach to vegetables.  Not only is broccoli above-average high in vitamin c & vitamin a, fiber and kaempferol, but also it has a beautiful, fresh taste if you just don't overcook it. Many people associate broccoli with hospital- or nursing home food – which is entirely comprehensible if those people never tried this recipe :)
This dish is one of my classic after-work foods. It only takes about 10 minutes to prepare & is an excellent choice for that late dinner that you tried to avoid. It also definitely makes a very convenient office-food as it might taste even better when cold and will not put you in that post-lunch food coma. Plus you can always have it as a side dish to all kinds of meat or fish.
So no matter when or how you decide to have this dish – you should just really, really do yourself a favor and cook this!!!
For one to two servings you will need:
one broccoli
2 lemons
1/2 cup of almonds (sliced or roughly chopped)
1 fresh red chili
2-3 garlic gloves
good quality olive oil
salt & pepper
Method:
Gently tug the broccoli in mouth-sized pieces using your hands.
In a big pot bring lightly salted water to boil.
Now cook the broccoli for exactly 2 minutes.
Rinse with cold water in a colander and then cautiously dry in a clean kitchen cloth.
Chop the garlic, the chili, and the almonds (if necessary).
Heat olive oil in a pan and fry the garlic, chili and almonds for about 5 minutes on low heat.
Increase the heat to high and add the dry broccoli. Fry for another 2 minutes.
Slice one lemon very, very thinly and combine with the other ingredients on a big plate or a salad bowl.
Drizzle with lemon juice & olive oil and sprinkle with salt & pepper.