Serves: 6
Preparation time: 1 h & 8 h cooling time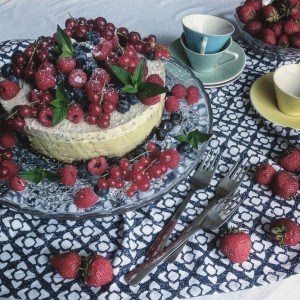 Since I am not much of a fancy patissier, I most of the time am not very eager to make plenty-layers-cakes or fondant-covered gateaus.
Yesterday night after having one or two encouraging glasses of white wine, I for the very first time dabbled in the arts of patisserie.
As I am not a big fan of rich, opulent and creamy cakes, I decided to create a recipe for a fresh, light and yoghurt-based cake using those leftover limes and avocados from last night's dinner.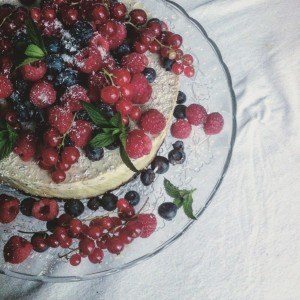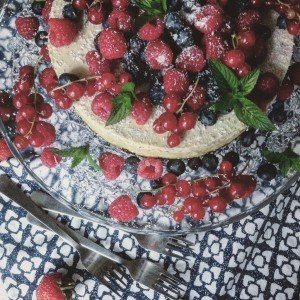 Using avocado in desserts and cakes has become very popular in the last few months – I've seen different creations in variable restaurants and bakeries. I already used avocado for my vegan chocolate mousse, which even my anti-vegan friends adore. Also, this recipe proofs how versatile avocado can be used. So don't be afraid of that green, buttery plant and use it as a healthier version for controlling your sweet cravings.
This recipe will get you a very fresh and fruity summer cake without sugar and carbs. For a vegan version of this cake just replace the yoghurt with soy yoghurt and use agar-agar instead of gelatin.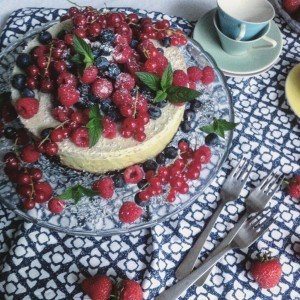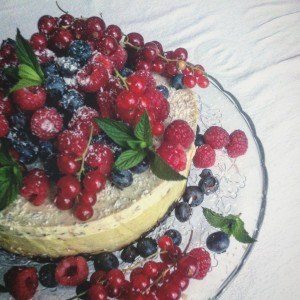 For a middle-sized cake you will need:
4 ripe avocados
one cup of almonds, hazelnuts or walnuts (I used a mixture of those)
100 gram of raw or normal chocolate
5 limes (juice and zest)
a good handful of fresh mint
400 gram of Greek yoghurt
12 sheets of gelatin
1/2 to 1 cup of maple syrup
fresh mint and berries to decorate (currant, raspberries, blueberries)
Method:
Cover the bottom of your cake tin with baking paper.
Roughly chop the nuts while melting the chocolate in a pot over low heat. If you use raw 99% chocolate, you will need to sweeten it with a little bit of maple syrup.
When the chocolate is fully liquid add the chopped nuts, mix well and evenly fill the cake tin. Wait until this mixture cools down to room temperature and then let it rest in the fridge for about 15 minutes.
Meanwhile soak 8 sheets of gelatin in cold water.
Remove the skin and the pip of the avocados and put the avocado in a mixing bowl.
Add 200 gram of Greek yoghurt, the juice and the zest of 4 limes and sweeten the whole thing with 4 tbsp of maple syrup.
Now blend the whole thing until you get a smooth paste. Taste and add more maple syrup if necessary.
Remove the gelatine from the cold water, neatly squeeze to get rid of the water and melt the gelatin in a small pot over medium heat.
Add the melted gelatin to your avocado-yoghurt mixture and stir well.
Cautiously pour that mixture onto the nut and chocolate base and set aside.
Soak 4 sheets of gelatin in cold water.
In a mixing bowl combine the rest of the yoghurt (200 gram) with a good handful of fresh mint, the juice and zest of one lime and a little bit of maple syrup. Blend until smooth.
Melt the gelatin in a pot and add it to your yoghurt and mint mixture. Stir well.
Pour on top of the avocado layer.
Let the cake rest in the fridge for at least 8 hours (overnight).
Gently cut it out of the cake tin and garnish it with the berries, mint and a little bit of shredded coconut (instead of icing sugar).