Serves: 8
Preparation time: 1 h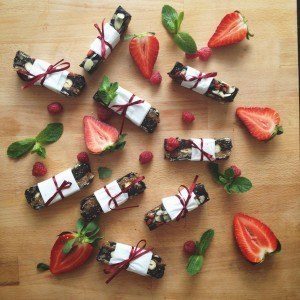 As I already stated in one of my previous vegan posts, I have an ambivalent attitude when it comes to veganism. Even though I do not agree with everything it claims or stands for, I am absolutely confident when I say that it is definitely worth squeezing in a few vegan days a month – which can be pretty delightful when following great vegan recipes.
Especially when it comes to sweets or desserts, I like replacing refined sugar, milk and butter with vegan goods – with a particular eye on refined sugar, which I am trying to ban entirely from my diet and recipes.
These raw & vegan chocolate-nut bars are not only very tasteful and satisfying tools for your sweet cravings – but they are also an excellent source of power for tiring office-afternoons, exhausting hikes or hours of travelling.
Again you should feel free to play around with the ingredients – use different kinds of nuts and dried fruits, leave out the shredded coconut or the chia seeds and only use as much maple syrup as you need.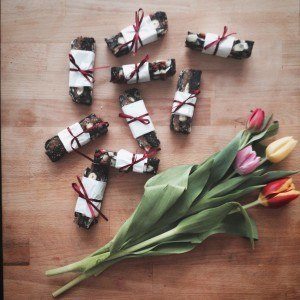 Ingredients:
300 g raw cocoa nibs or pure chocolate (99%)
5 tbsp raw coconut fat
one handful of dried dates
one handful of shredded coconut
one handful of sliced almonds
2 handfuls of nuts (almonds, hazelnuts, walnuts,…)
salt flakes / fleur de sel / or basic salt
1 tbsp chia seeds
5 tbsp maple syrup
dried berries (goji, cranberries, raspberries, etc.)
Preparation:
Melt 100 g chocolate and 2 tbsp coconut fat in a small pot.
Add about 2 tbsp of maple syrup to sweeten.
Add the sliced almonds and stir well.
Line baking paper in a small casserole dish or baking tin and cover the base with your chocolate-almond mix. Set aside to cool – preferably in the fridge.
Meanwhile roughly chop the dried dates and work them through a food processor until you get a smooth, sticky paste. Add shredded coconut and combine.
Spread this paste onto the slightly cooled chocolate-almond base and cautiously press flat using a spoon.
Squeeze half of the whole nuts into the date-coconut paste and sprinkle with a few salt flakes.
Melt the remaining chocolate (200 g) plus 3 tbsp coconut fat in a pot.
Again sweeten with maple syrup (about 3 tbsp).
Roughly chop the remaining nuts and add them to the melted chocolate. The same applies to the chia seeds. Stir well.
Spread this mixture onto the date layer and decorate with dried berries.
Cool, the whole thing in the fridge for at least 5 hours until you get a giant solid chocolate bar.
Cut into small bars or bite-sized squares.
You can store them in the fridge for at least a week – but trust me: they will not last that long :)