Serves: 4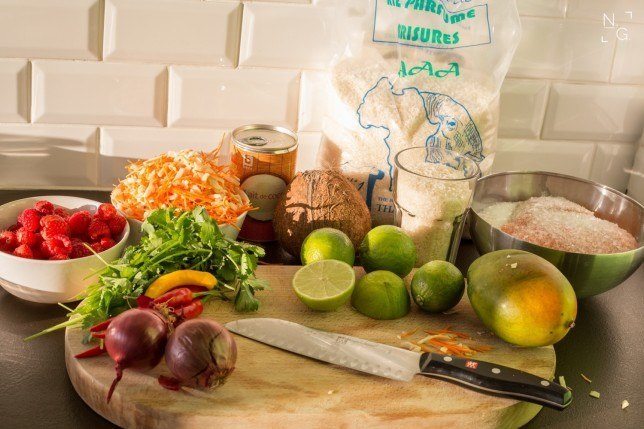 Nico, my Airbnb host in Brussels, travelled to Thailand earlier this year and brought back some authentic recipes & beautiful pictures.
So last week he showed me how to make mango sticky rice (following a recipe from an old Thai woman he met in Chiang Mai) as a side dish to his self-invented and ceviche-inspired salmon.
You will need:
4 steaks of good quality salmon (fresh)
4 cups of raw sea salt
4 limes
one mango
2 carrots
a handful of chopped cabbage
2 red onions
2 cups of raspberries (optional)
one fresh red chili
3 cups of Thai rice
1 cup sesame seeds
one can of coconut milk
3 tbsp of sesame oil
2 tbsp of sugar
a good handful of fresh cilantro
salt & pepper
This dish needs a little bit of planning and thinking ahead as you will need to prepare the fish at least 8 hours in advance. It only takes you 2 minutes but make sure you do not fall below those 8 hours.
Place the salmon steaks in a bowl and spread it with the sea salt. Make sure every part of the fish is covered in salt. Now let it rest in the fridge – preferably overnight. The salt will draw the moisture from the fish so it will get kind of a dry texture which will be great for the "ceviche".
First you will need to slice very thinly the onions, cabbage, carrots and the chili.
Then combine all of those ingredients in a big mixing bowl and cautiously mix using your hands.
Rinse the salted salmon steaks with cold water and make sure you get rid of the salt. Then dry the salmon using a clean kitchen towel.
Cut the salmon into bite-sized cubes & add to the big mixing bowl.
Roast sesame in a small pan on medium heat and combine it with all the other ingredients in the bowl – using your hands. At this point, you can also add the raspberries and the cilantro.
Season your salmon ceviche with sesame oil and the juice of the limes. Let it rest for at least 30 minutes so the lime juice can kind of "cook" the salmon.
Soak the rice in cold water for about 15 minutes to get rid of the starch.
Warm the coconut milk in a small pot and dissolve the sugar and one tsp of salt.
Cut the mango in slices.
Cook the rice and evenly spread it in a casserole dish. Pour the coconut milk over the rice and let it soak in for about 5-10 minutes.
To serve simply place the mango slices on the rice, maybe garnish with a little bit of fresh cilantro & combine it with the salmon ceviche on plates or in small bowls.
Enjoy!
And all my love goes out to NICO – the greatest Airb'n'b host & photographer of all times!