Serves: 2
Preparation time: 20 min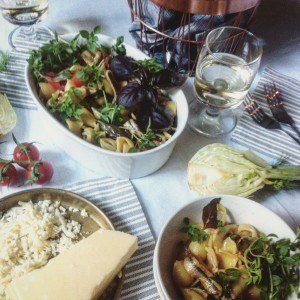 This is the recipe of my all-time favorite pasta!
Not only because it features my beloved fennel, but also because it makes a great summer dish and an even better take-away pasta salad to bring to the beach or picnics.
Make sure to use good quality pasta, loads of fresh basil, very ripe tomatoes and please, please stick to Al Dente-policy!
Now turn on some Italian music, open a bottle of beer or good wine and start cooking!
Ingredients:
1 cup of pasta
1 cup of thinly sliced and very ripe tomatoes
1 bulb of fennel
4 tbsp of good quality olive oil
half a jar of marinated alici or any other kind of marinated fish (about half a cup)
2 handfuls of fresh basil
freshly grated parmesan
2 gloves of garlic
salt & pepper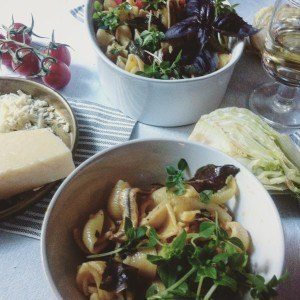 Method:
Cook pasta Al Dente and add a little bit of salt to the boiling water.
Thinly slice the fennel.
Heat olive oil in a big pan and fry the fennel on low heat for about 10 minutes – make sure it doesn't get too soft though – try cooking it firm to the bite.
Meanwhile thinly slice the tomatoes and the garlic.
Remove the fennel from the pan and fry the garlic for about 4 minutes until golden.
Combine the pasta, the fennel, the garlic, the raw tomatoes, the grated parmesan and the alici and cautiously mix the whole thing using your hands.
Now add the basil and season with pepper & salt.
You can have this dish as a warm warm dinner or lunch, but you can also serve it as a cold pasta salad.