Serves: 2
Preparation time: 20 min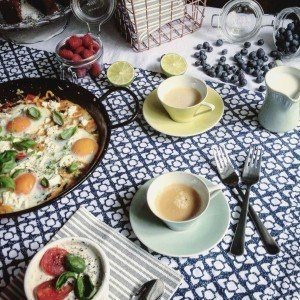 If you're looking for a quick but impressive breakfast or brunch on low budget this might be your thing: baked eggs with sweet red peppers and sour cream – avocado dip!
I already posted a very similar post a few months ago – but without peppers and the dip!
Ingredients:
The eggs:
4 eggs (2 per person)
1-2 big sweet red peppers
2 gloves of garlic
a little bit of ham (optional)
fresh basil
2 tbsp of good-quality olive oil
salt & pepper
The avocado dip:
1 very ripe avocado
100 g sour cream (or Greek high-fat yoghurt)
1 tsp lemon juice
a pinch of dried chili
salt & pepper
Preparation:
The eggs:
First you will need to chop the garlic and the peppers into very thin slices.
You then preheat your oven to 150°C  while you choose a pan/pot/casserole dish that you can use on your stove and in the oven.
Put the cooking dish on the stove and slowly heat the olive oil. You then fry the garlic for about 2 minutes before you add the peppers & chopped ham and fry for another 5-10  minutes. You will want your garlic and peppers to become soft and juicy – make sure that the garlic doesn't get burnt, for it will taste bitter.
Remove from the stove and cautiously break the eggs over the mixture of garlic and peppers. Be careful not to break the yolk!
Spread half of the basil over the eggs and place the whole thing in your oven.
Now slowly bake your eggs until they are done. This will take at least 5–10 minutes – depending on how you like your eggs :)
Serve warm and sprinkle with salt (flakes), pepper & basil.
The avocado dip:
Peel the avocado and remove the pip. In a small bowl smash the avocado until you get a smooth paste.
Add sour cream & lemon juice. Mix well.
Season with chili, pepper & salt.
Serve both dishes with bread or veggie-sticks (carrots, cucumber, peppers, celery, etc.).
Happy Sunday, everyone! I am off to Vienna's "mountains" ;)
Anna