Serves: 2
Preparation time: 50 min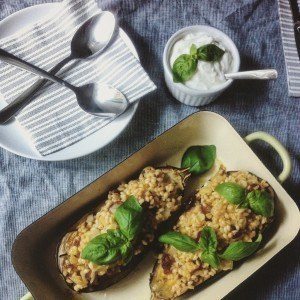 This is an excellent vegetarian or even vegan – if you skip the greek yoghurt – dish. Very basic and ridiculously easy to make.
You bake the eggplant in the oven for about quite a while which will get if a very creamy, smooth texture. I know many people who do not like eggplant due to its weird plastic-like texture that only exists when you do not properly prepare it. If you or your guests are still not convinced of this vegetable, you could also replace the eggplant with zucchini or red peppers.
For the eggplant version you will need:
one big eggplant
1 1/2 cup of pot barley (you can also use couscous, quinoa or bulgur)
6 dried dates
one onion
one handful of sliced almonds
olive oil
1/2 tsp of ground coriander
fresh basil
salt & pepper
greek yoghurt (optional)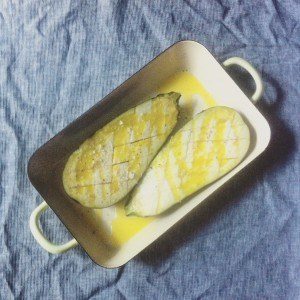 Preparation:
Preheat the oven to 200°C.
Cut the eggplant in half and make small incisions into the eggplant without cutting the skin.
Place the eggplant halves in a casserole dish and drizzle with olive oil, salt & pepper.
Put it in the oven for about 40 minutes until the meat of the eggplant gets creamy and soft.
Meanwhile heat a little bit of olive oil in a pan.
Also, cook the pot barley as instructed on the packing.
Cut the onion to small cubes and fry them in the olive oil until golden.
Thinly slice the dates and add them to the onions. Stir well.
Season with ground coriander and add the whole thing to the cooked pot barley. Mix well and set aside.
To serve simply spread the pot barley on the eggplant halves, decorate with fresh basil and enjoy with Greek yoghurt.