Serves: 4
Preparation time: 1,5 h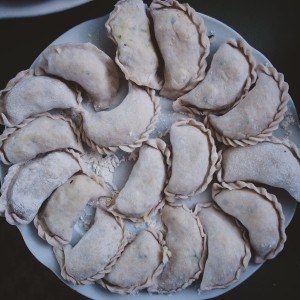 When it comes to food, Austria offers quite a nice variety of specialties. We all know the pastries like Apfelstrudel, Kipferl & Gugelhupf; we love our Wiener Schnitzel with potato salad; we are proud to produce high-quality wine in our pretty, local wineries; we at least feel like we make great beer and also our farmers each year harvest the nicest fruits and vegetables which allow us Austrians to have access to comparatively high-quality food.
What is is most exciting to me, is how each region of Austria has its very own specialties in addition to the ones I just listed. Since I have traveled almost every Austrian province, I know most of them BUT I recently realized that I have totally left out (East) Tyrol with its beautiful Schlipfkrapfen! I am very lucky to know someone who not only made me realize that but also knows the technique of properly cooking traditional East Tyrolean Schlipfkrapfen. And so we did. Yesterday night.
For 3 to 4 servings you will need:
The dough:
1/2 kg wheat or rye flour
250 ml lukewarm water
1 egg
salt
The filling:
750 g floury potatoes
2 big onions (white or red)
100 g butter
7 garlic gloves
2 bundles of chive
salt & pepper
To serve:
100 g butter
freshly grated parmesan
As an early warning, I feel like I need to tell you that making Schlipfkrapfen will be a lot of fun but will also take a whole lot of time. What's more, it requires heaps of patience, discipline, space, steady nerves and – ideally – another person!
If you are not totally into cooking and love a challenge like this, having another person helping you is kinda mandatory. Not only will cooking be a lot more fun if you do it together, but also you might need that other person to build you up after you've had your second or third angry meltdown because either that stupid dough is just too sticky, there is flour everywhere or your Schlipfkrapfen do not look anything like they are supposed to. In these moments, you will be happy to have a friend by your side. Also, it might not be the worst idea to open a good bottle of wine to calm your nerves :)
These last few sentences probably have scared you and might even have killed the possibility of you every trying out this recipe, but please believe me when I tell you that as soon as you take the first bite you will know why the hassle of making Schlipfkrapfen is absolutely worth it!
---
Preparation of the filling:
At first you will need to cook the potatoes for the filling. Just Bring water to boil in a big pot and boil the potatoes until soft.
Meanwhile cut the onions into small cubes.
Heat butter in a big pan and fry the onions on medium heat until translucent.
Chop the chives and work the garlic through a garlic crusher.
Combine all ingredients (onions, garlic, chives) in a big mixing bowl.
As soon as the potatoes are soft enough you just peel and squash them before you add them to the mixing bowl.
Season with salt and set aside to cool.
Preparation of the dough:
In a mixing bowl combine the egg, a pinch of salt and the flour. Stir well.
While mixing add the water little by little until you get a solid dough.
Set aside to rest for 30 minutes.
Preparation of Schlipfkrapfen:
Sprinkle quite a lot of flour on a big countertop (or table).
Flatten the dough as thin as possible.
Use a glass to cut out circles (8–10 cm).
Take one circle in your left hand and place one tbsp of the potato filling onto it.
Now cautiously form the Schlipfkrapfen. Make sure that the edges really stick together so they won't open while cooking in boiling water afterward.
The final steps:
Bring water to boil in a big pot and then reduce the heat to medium so that the water only simmers.
Boil the Schlipfkrapfen for about 3 minutes – they are ready when they rise up to the surface of the water.
Meanwhile grate the parmesan.
Also, melt the butter in a small pan until it gets golden brown.
Serve the Schlipfkrapfen on individual plates, drizzle with the melted butter and top with grated parmesan & a little bit of freshly ground pepper.