Serves: 4
Preparation time: 15 min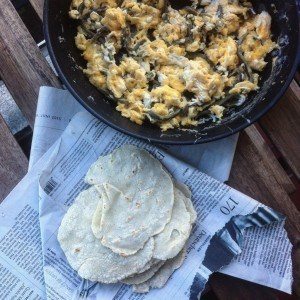 When I came to Brussels for my internship and moved in with two guys in an airb'n'b apartment, I thought that it would mostly be pizza, pasta, fries and – of course – beer for the majority of the time.
Well I have been here for more than a week now and I've not had any of those, apart from beer – obviously – but instead have spent nearly every evening in the kitchen cooking with my dear new friends :) Nico, the host, is not just an amazing photographer but also a really creative and experienced cook. He just spent a few weeks in Thailand so he showed me how to do mango sticky rice and ceviche-inspired salmon with lime and strawberries – I will post the recipe of that dish within the next few days. Don't miss it!
Today we decided to do a Mexican day – guided by Gabe, whose parents are from Mexico. That and the fact that Gabe is really into cooking as well are why Gabe knows how to do real Mexican food, following recipes from his mother.
So this morning we started with a mexican breakfast, very early before work. Gabe bought some pickled cactus (yes, real CACTUS) and original corn flower in a local mexican foodstore somewhere in this very confusing city, and we made typical mexican scrambled eggs with cactus. To serve we prepared homemade tortillas using the MASA (the corn flour).
It is a really easy dish, which is also very comforting. It is also incredibly cool to be able to say you've eaten cactus!
Ingredients:
8 eggs
one jar of pickled cactus
2 cups of corn flour (masa harina)
water
olive oil
salt & pepper
Preparation:
Mix the corn flour with water until you get a smooth & non-sticky, but also not too dry, dough and add a pinch of salt.
Put a big pan on medium heat and wait until it is really, really hot.
Meanwhile separate the dough into small portions and cautiously flatten each portion using your hands and a rolling pin. If the dough sticks, to the countertop just sprinkle it with a little bit of corn flour or place cling wrap in between the dough and the counter.
Fry the tortillas for about 30 seconds on each side until slightly brown and set aside to rest. Do not add oil at this step!
For the scrambled eggs simply fry the cactus in a little bit of olive oil, add the eggs and stir well.
Season with pepper and salt and serve with your homemade tortillas!
To serve just place the hot pan on the table and let your guests make their own little tacos:) You can, of course, spice up your little tacos using a kind of sauce, like salsa or fresh sour cream, and fresh tomatoes or peppers.