Serves: 4
Preparation time: 20 min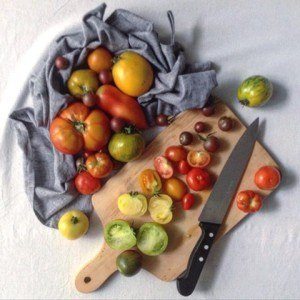 Flatbread – or "Flammkuchen" which has its origin in Alsace – is a very quick and easy dinner party idea. I often make this when I spontaneously invite a friend over for a glass of wine and feel like offering a bite. It is made of two basic ingredients – flour & cream cheese/sour cream – that you can always find in most people's kitchen. The topping can reach from fancy compositions (such as red onion, chèvre, honey & thyme) over the original version (cubed bacon & onions) to very basic toppings (such as tomatoes & basil, pumpkin & chili, prosciutto & parmesan, feta & fresh spinach or olives & anchovies). As long as your fridge is not empty you will always be able to create some flatbread. Plus: everybody will admire your steady attendance as a host :)
Ingredients:
430 g wheat flour
4 tbsp oil
1/4 l water
500 g fresh tomatoes
250 g cream cheese
4 garlic cloves
fresh basil
majoran
300 g creamy goat cheese
olive oil
salt & pepper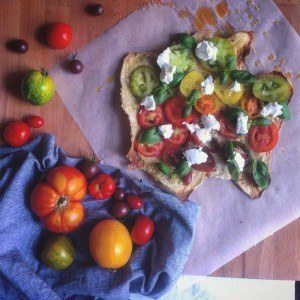 Preparation:
Combine the wheat flour, water and a pinch of salt in a mixing bowl and knead well until you get a solid dough.
Preheat the oven to 250°.
Flatten the dough into 3-4 pieces using baking paper.
Spread with cream cheese & thinly chopped garlic and sprinkle with pepper, salt and majoran.
You can now decide whether to top your flatbread with tomatoes at this point to bake the whole thing at once, or you can only bake the dough and add the fresh tomatoes afterwards. I usually go with both ;) Anyhow you should bake the flatbread for about 5-10 minutes.
Garnish with fresh basil & chèvre.
Right before serving sprinkle with high-quality olive oil, pepper & salt.