Serves: 2
Preparation time: 20 min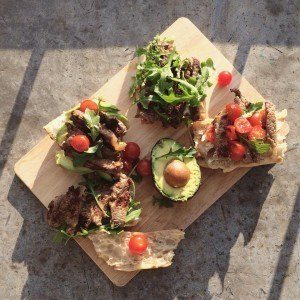 The few days we spent in Paris were simply amazing! Nice food, nice people, pretty little boutiques and OMG – that language! The only but very significant downside: the money. Prices for food in restaurants are – as probably everybody knows – very, very high. So that's why we would have our late night beers on our beautiful balcony from a supermarket. Also we decided to sometimes cook our own dinner instead of going to a nice restaurant.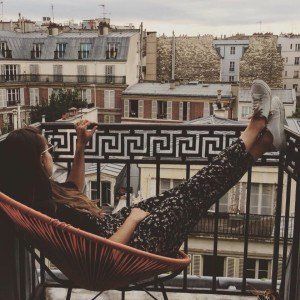 One night I decided to make bistecca fiorentina – an Italian dish I learned from my very Italophile mother :)
It usually is served with rocket, parmesan and high quality olive oil – bread on the side. I made a slightly altered version of it: bistecca fiorentina sandwiches, for which you will need:
2 thin beef steaks
one baguette
one avocado
a handful of cherry tomatoes
a handful of rocket
creamy chèvre
olive oil
salt & pepper
Usually you would prepare bistecca fiorentina on a grill but you can of course also make it in a big pan.
Heat a little bit of olive oil in a big, heavy pan.
Once the olive oil is really, really hot you roast the plain steaks for about 2-3 minutes on each side – depending on how raw you like your meat.
Take the pan off the heat, salt & pepper the steaks and place them on a wooden cutting board.
Tranche the meat into slices.
Now you cut the baguette in halve and make your individual sandwiches using the chèvre as a spread and adding the rocket, avocado or the tomatoes. Or all of it.
Just before serving drizzle with  a little bit of olive oil, salt & pepper.