Für 3-4 Gläser Pesto
Zubereitungsdauer:30 Minuten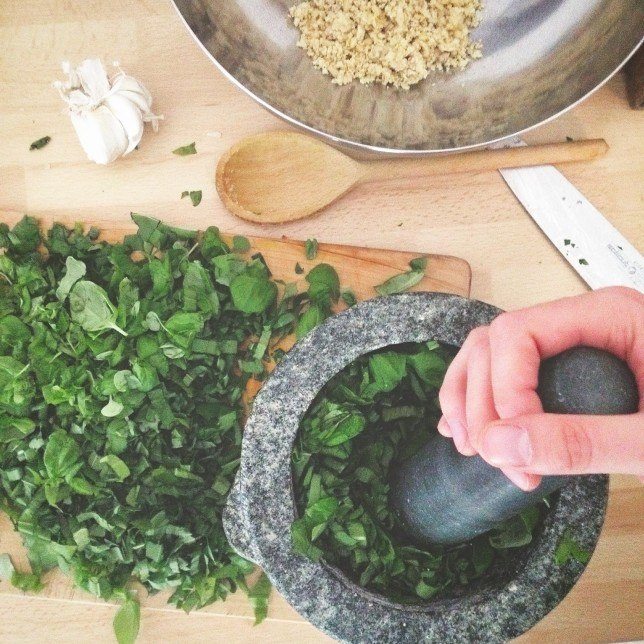 Zutaten:
viel frischer Basilikum und/oder Bärlauch (ca. 300 g)
5–10 Knoblauchzehen
3–5 EL geriebener Parmesan
50–100 g geröstete Pinienkerne
viel gutes, hochqualitatives Olivenöl
Salz und Pfeffer
Zubereitung:
Den Parmesan reiben, das Basilikum von seinen Stängeln lösen und mit dem Bärlauch grob hacken.
Den Knoblauch fein hacken.
Nun das Basilikum, den Bärlauch, den Parmesan, die Pinienkerne und den Knoblauch in einer Küchenmaschine oder mit einem Handmixer zu einer feinen Masse verarbeiten.
Nun mit viel Olivenöl aufgießen, mit Salz und Pfeffer abschmecken und gut durchmischen.
Das Pesto in luftdichte Gläser füllen und mit Olivenöl bedecken. Kühl und dunkel gelagert hält das Pesto so mindestens ein Jahr.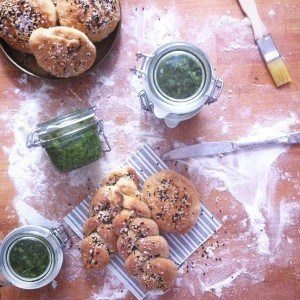 ---
Serves: many people, many times :)
Preparation time: 30 min
Should you make your own pesto? – Yes, you should!
Why should you make your own pesto? – Because it will not only make you feel very, very proud of yourself but for the simple reason that the common "pesto genovese" that you can buy in every supermarket is not comparable to your homemade version. Industrially produced pesto often contains cheap sunflower oil instead of high-quality olive oil, all kinds of nuts but pine nuts and potato flakes or wheat semolina instead of parmesan. Plus all the other artificial shit they put in it to make it look pretty and to increase the shelf life.
If you succeed in making your own pesto, how will you eat/serve it? – The most traditional way to eat your pesto is – of course – on pasta. But there are so many other ways to enjoy your pesto. Some might be considered as unconventional but since we're all open-minded people here I will propose some uncommon ideas :)
If you make risotto: add 2 tbsp of pesto; if you make scrambled eggs: add 1–2 tbsp of pesto; if you want to beef up your salad: add some pesto to your vinaigrette; if you need a change of scenery when eating your fries or (baked) potatoes: declare pesto to be your new most favourite dip;  if you want to impress at a dinner party: bring homemade pesto and curd spread for breadsticks or crackers; top your oven baked vegetables with pesto; marinate meat or fish with your pesto and – for the love of God – try grilled prawns and squid with pesto!
What ingredients will you need for homemade pesto? – You will need:
lots of fresh basil and/or wild garlic (about 12 cups if chopped)
5–10 gloves of garlic
3–5 tbsp of grated parmesan
about 1 cup of roasted pine nuts
lots of high-quality olive oil
salt and pepper
How will you make homemade pesto? – Like that:
Grate the parmesan and separate the basil and the wild garlic from its stalks, then roughly chop it.
Chop the garlic.
Now you mix the basil, the wild garlic, the Parmesan, the garlic and the pine nuts in a mixing bowl and work it through a food processor or a hand-held blender until you get a smooth paste-like but not totally homogenous texture.
Add a lot of olive oil and season with pepper and salt. Mix well.
Store your pesto in air-tight jars and add a little more olive oil to coat it. Unopened you can store those jars in a cold and dark place like a cellar or a fridge for at least a year!
That's it!