Für 12 Muffins oder einen mittelgroßen Kuchen
Zubereitungsdauer: 35 Minuten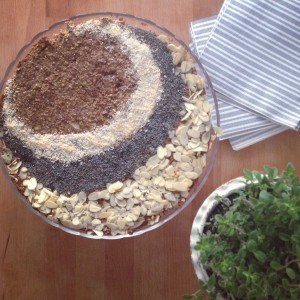 Zutaten:
1 Banane (zerdrückt)
1 Apfel (gerieben)
2 Eier
1 EL Chia-Samen
1 EL Kokosflocken
125 g gemahlene Mandeln
1 EL Mohn
30 ml Kokosöl
40 ml Mandelmilch/Kokosmilch/Milch
1 TL Backpulver
Zimt, gemahlener Ingwer (optional)
Zubereitung:
Die Banane mit einer Gabel zerdrücken und den Apfel grob reiben.
Das Kokosöl in einem Topf schmelzen und das Backrohr auf 150 Grad vorheizen.
Alle Zutaten mischen und mit einer Gabel gut rühren bis man eine sämige Masse bekommt.
Muffin- oder Kuchenformen befüllen und auf mittlerer Schiene etwa 15-25 Minuten backen (das kommt ein bisschen auf das Backrohr an).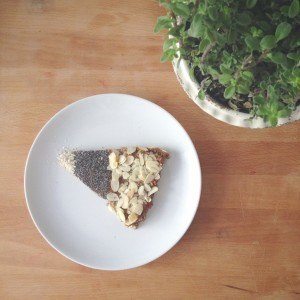 ---
Serves: 12
Preparation time: 35 min
Since I am anything but an early bird and I am late for work nearly every day, I needed to create a way to have my breakfast on the way to work – mostly while standing between a thousand of tired and grumpy people in one of Vienna's bouncy trams.
I know there are many people who claim that they do not need to have breakfast at all. I am always asking myself how and where those people get their power from until they have their lunch!?!?!
Anyways – since I am certainly not one of those people with morning-superpowers, I decided to create my own healthy but still satisfying and comforting "breakfast to go" – paired with a cup of "coffee to go", naturally.
Most importantly, the time to prepare my ideal "breakfast to go" needed to fit my daily morning routine on work days, which is: hitting the snooze-button way too many times, suddenly realizing the actual time, hurrying out of bed searching for my glasses, taking the quickest shower a human being can possibly take, applying way too much rouge and way too little mascara, grabbing my cellphone and bag, running outside to catch my tram and -needless to say – forgetting to properly lock my door.
Due to these time-management-issues of mine, I started having a banana or an apple for breakfast, which was good for about two weeks but then got kind of tedious. So one late Sunday night I grabbed a huge mixing bowl and threw together all the right stuff I could find in my kitchen: almonds, chia seeds, grated apples, almond milk, shredded coconut, poppy seeds, coconut oil, organic apple sauce and eggs. The outcome: concentrated power in lovely little muffins.
The best thing about those breakfast muffins or that breakfast cake: you can bake on the weekend and then will have enough of delicious and yet wholesome "breakfasts-to-go" for every single morning the forthcoming week. They might also make a great afternoon snack or chocolate-replacement but for sure they will make those other people on the tram drool and enviously stare at you :)
For about 12 pieces of muffins you will need:
1 banana (mashed)
1 apple (grated)
2 eggs
2 tbsp of chia seeds
1 cup of ground almonds
1 tbsp of poppy seeds
1 tbsp of shredded coconut
1/8 cup of coconut oil
1/8 cup of almond or coconut milk (you can also use normal milk)
1 tsp of baking powder
cinnamon and ground ginger (optional)
Method:
Mash the banana and grate the apple.
Melt the coconut oil and preheat the oven to 300°F.
Mix all the ingredients and stir well with a fork until you get a smooth texture.
Now fill up those cake or muffin tins of yours and bake them for about 15-25 minutes (depends on your oven).