Serves: 2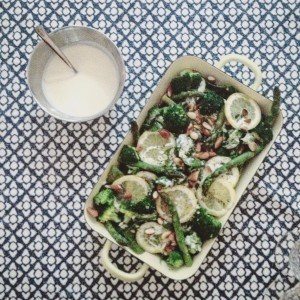 The great thing about this early-summer season is the huge variety of fresh, colorful vegetables and fruits. When I make vegetarian dishes I always like to follow one single color – for some odd reason that I can't even explain.
Yes, you are right. That really might be a little weird or might even seem neurotic but artificial constraints like this force you to get creative with your recipes.
On some days I would mix tomatoes with red peppers, watermelon, radicchio and radishes. RED.
On others I would mix pumpkin, sweet corn, yellow carrots, yellow peppers, lemons and apricots. YELLOW.
And this weekend I mixed broccoli, asparagus tips, fresh spinach and basil. GREEN.
This salad is an amazing fresh dinner or lunch but also works well as a side dish to meat, fish or pasta.
For 2 servings you will need:
one broccoli
one bundle of aspargus (I only used the tips in this recipe because I needed the rest for another dish)
1/2 cup of orzo (instead you can also use wild rice, quinoa, couscous or pot barley)
two handfuls of fresh spinach
two handfuls of fresh basil
1 organic lemon
1 handful of almonds
1/2 cup of sour cream (optional; for the vegan version skip this)
olive oil
salt & pepper
Method:
In a big pot bring water to boil and slightly salt it.
In another pot you will also need to bring salted water to boil. You will cook your orzo in that one. Make sure to not overcook the pasta or whatever you use.
Meanwhile roughly chop the asparagus and the broccoli.
When the water boils you reduce the heat to very low and make sure the water does not cook but simmers.
Now you "cook" the asparagus for about 5 minutes. Then drain in a colander and rinse with cold water.
You now do the same thing with the broccoli. Drain well and very gently dry the broccoli by dabbing it with a clean dishtowel.
Drizzle a small pan with a little bit of olive oil and cautiously fry the brocolli (not the asparagus) for a maximum of 3 minutes. Remove from the pan.
Gently mix the fresh spinach, basil,  broccoli, asparagus and orzo in a bowl using your hands. You will not need to chop the basil and spinach – just make sure you remove the leaves from the stalks.
Drizzle with olive oil, salt & pepper and the juice of half a lemon.
Roughly chop the almonds and roast them in a pan for about 5 minutes.
Now place your salad on a big plate. Sprinkle with the roasted almonds, a little more pepper & salt (if necessary) and drizzle with sour cream.
Garnish the whole thing with very thinly scliced lemon and basil.