Serves: 2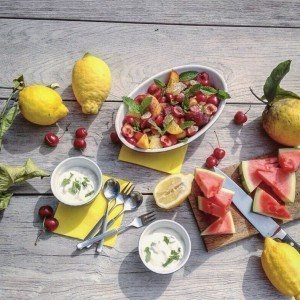 There is this saying that breakfast is the most important meal of the day. As for me, every meal is equally important I do not support that statement. What I do agree with is that what you have for breakfast will for sure influence the of your day – or at least your mood.
So during the week when I need a lot of power and motivation for work, I instead of heavy, luscious and hearty food prefer a lighter version of breakfast – ideally with fruits to gain a good amount of fruit sugar that gets me going.
Also, this time of the year might be the best moment to create fresh salads of fruit, which you can now choose from a vast variety.
This time, I chose red fruits (except the peaches that at least have a red skin) and added lots of sweet lemons from Southern Italy. I combine it with homemade minted sweet labneh. Sweet Labneh is a very rich and creamy yoghurt-dish that I adore. Here is a very helpful tutorial that will show you how to make sweet labneh. If you do not have the time, you can always skip it or use Greek or normal yoghurt instead.
For this salad you can, of course, use any fruit that you like; I will here show you my favorite version for what you will need:
2 lemons
a good piece of watermelon
2 peaches
a handful of strawberries
a handful of cherries
1 cup of labneh or yoghurt
2 tsp of good quality honey
2 tbsp of poppy seeds
a handful of fresh mint
There is not a "method" to that, but I will at least sum up the few steps:
Cut the strawberries and peaches in mouth-sized pieces.
Remove the pips of the cherries and roughly cut the watermelon.
Peel one lemon and remove all of its skin. Then cut out fillets.
Combine the cherries, peaches, lemon fillets and strawberries in a salad bowl. Drizzle with lemon juice and sprinkle with poppy seeds.
Garnish with mint and let it rest for about 10 minutes.
For the sweet labneh or sweet yoghurt you just mix it with the honey and add a little bit of finely chopped mint.
That's all there's to it.
Enjoy!