Serves: 2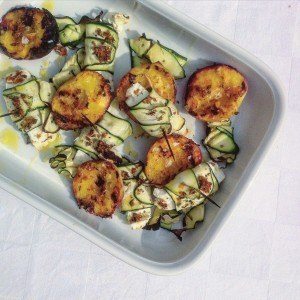 You notice the beginning of the Viennese summer when:
1) people are licking all kinds of fancy hipster – ice cream from Eisgreissler & Co,
2) the Danube riversides are filled with sweating people in bikinis lying in between loads of empty beer cans and
3) you automatically choose to travel by bike instead of using public transport because you just cannot stand the smell of the inside of Vienna's metro anymore.
As much as I worship that gorgeous city – in times like that I try to escape the city life and visit my parents who life next to a beautiful lake and are the proud owners of a prosperous garden and an excellent barbecue.
So that is what I did this weekend – the lake, the sun and the BBQ.
The original version of the recipe that I am about to share with you can be found in this magazine of BILLA (an Austrian supermarket) – I slightly altered it, though.
For two servings you will need:
the zest of 1 organic lemon
the zest of 1 organic orange
1 tbsp of fennel seeds
1 tsp of salt
2 tsp of honey
1 tsp of chili
2 tsp of ground thyme
1 garlic glove (thinly chopped)
3 peaches
a good piece of feta (about half a package)
1 zucchini
olive oil
salt & pepper
Method:
Cut the zucchini in long and very thin slices using a slicing machine if you have one – otherwise: good luck ;)
Cut the feta in finger sized sticks and gently roll them in one to two zucchini slices. Fix with a pick.
Cut the peaches in half and remove the pip.
Grate the zest off the lemon and orange and put them in a small casserole dish. Dry in the oven for about 10 minutes (120°F/50°).
In a small pan, you roast the fennel seeds until they start to scent.
In a mortar combine the salt, chili and the fennel seeds and nicely grind.
Now add the thyme, the thinly chopped garlic, the lemon zest and the orange zest. Grind again.
Add the honey and mix well.
Now you cover the cut surface of the peaches with this rub and let it rest for about 10 minutes.
Sprinkle the remaining rub on your feta-zucchini rolls.
Now you can either grill the peaches and the zucchini-feta rolls on a BBQ or in a regular pan.
Make sure that the peaches will not stick to the grill – maybe cover the grill with a little bit of olive oil.
Serve on a big plate and sprinkle with a little bit of pepper & olive oil.
As I am a huge fan of sea food, we ate the peaches and the feta as a side dish to grilled squid and prawns.
We just plainly grilled them for 2-3 minutes on each side.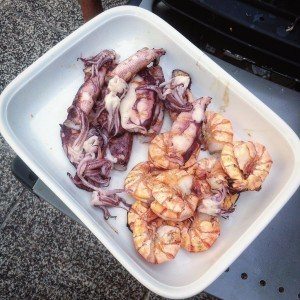 To serve we sprinkled the whole thing with Maldon salt flakes, freshly ground pepper & high-quality olive oil and added some homegrown rocket & lemon wedges.